Janet Shope
Posted
Janet Shope, 63, of Lemoyne, entered into eternal rest on Wednesday, December 26, at Harrisburg Hospital.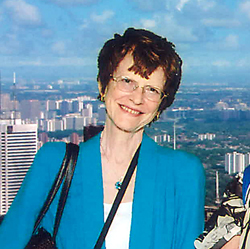 She was born on August 30, 1949 in Altoona, and was the daughter of Kathryn Hooper Smith and the late Clark A. Smith.

She was a member of Middletown Presbyterian Congregation Church, Middletown; worked as a routing specialist for Verizon in Harrisburg for over 30 years; she enjoyed travel, gardening, reading and family vacations; and was a member of the Telephone Pioneers of America.

In addition to her mother, Janet is survived by three sisters Carol, wife of William Stoffel of Palmyra, Karen Smith of Etters, and Diane Smith of Vienna, Va.; two nieces, one nephew, four great-nieces; and friend Rick Applegate.

Funeral services will be held at 10 a.m. on Wednesday, January 2, 2013 at the Frank E. Matinchek and Daughter Funeral Home and Cremation Services, Inc., 260 E. Main, Middletown, with the Rev. Donald Potter and Rev. William Stoffel officiating.

Burial will be in Riverview Cemetery, Huntingdon.

Viewing will be from 9 a.m. until time of service on Wednesday at the funeral home.

Memorial contributions may be made to her church, Union and Water Streets, Middletown, PA 17057.

Condolences may be sent to www.matinchekanddaughterfuneralhome.com.