'I LIKE WINNING': Raider coach praises team after two big division wins
Posted 4/8/14
A welcomed attitude adjustment within the Middletown baseball team's ranks produced positive results last week, as the Blue Raiders got on the winning track with a pair of victories in the Keystone Division of the Mid-Penn Conference.Photo by Jodi …
'I LIKE WINNING': Raider coach praises team after two big division wins
Posted
A welcomed attitude adjustment within the Middletown baseball team's ranks produced positive results last week, as the Blue Raiders got on the winning track with a pair of victories in the Keystone Division of the Mid-Penn Conference.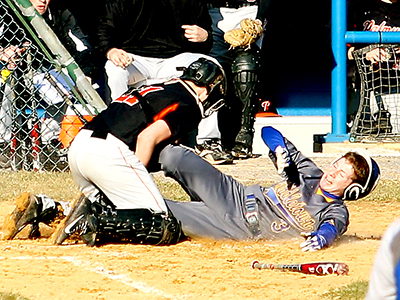 Photo by Jodi Ocker - Middletown's Brett Altland (3), above, is thrown out at home plate by Palmyra despite his slide. The Blue Raiders still won the game, 1-0.
The adjustment showed up on Tuesday, April 1 when the Raiders toughed out a 1-0 win over visiting Palmyra, and again on Thursday, April 3 in a big 8-0 triumph over Mechanicsburg.
The pair of wins evened the Middletown squad's record at 2-2 and showed the real potential of this year's squad.
Coach Steve Shuleski noted that in the Raiders' two previous losses the players needed to start playing as a team – and the Raiders responded by pulling together last week.
By beating two quality programs like Palmyra and Mechanicsburg, the Raiders proved they can be legitimate contenders in 2014.
For the full story, CLICK HERE to subscribe to the Press And Journal.
Comments