Her research aims to help kids with autism spectrum disorder
Posted 11/12/13
Submitted photo Penn State Harrisburg professor Kimberly Schreck, right, and Richard Foxx, a professor of psychology, view autism research.The parents that Penn State Harrisburg professor Kimberly Schreck met at an autism conference were desperate. …
Her research aims to help kids with autism spectrum disorder
Posted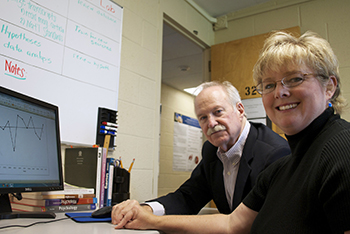 Submitted photo Penn State Harrisburg professor Kimberly Schreck, right, and Richard Foxx, a professor of psychology, view autism research.The parents that Penn State Harrisburg professor Kimberly Schreck met at an autism conference were desperate. They would do anything, spare any expense, for a treatment that could bring improvement to their child with an autism spectrum disorder, a confusing cluster of conditions characterized by difficulties in social interaction and repetitive behaviors.


So when an uncredentialed "specialist" told them the problem was caused by a vitamin deficiency – and he could develop a concoction to improve their son's condition for $10,000 – they jumped at the opportunity.


Then the parents were told the concoction would cost even more. By the time they realized the treatment did not work, they had paid nearly $150,000 and mortgaged their home – all for nothing.


It's stories like theirs that makes Schreck so passionate about autism research, and such a staunch opponent of seemingly harmless treatments that don't work.


You can read the full story in our printed edition or our e-Edition.