Her class project: get college students to tee off at Sunset
Posted 11/26/13
Photo by Daniel Walmer Mandy Sheckard, an Elizabethtown College student, prepares to drive a golf ball at Sunset Golf Course's scenic 10th hole during Elizabethtown College Golf Day on Friday, Nov. 8. If you see young foursomes sporting …
Her class project: get college students to tee off at Sunset
Posted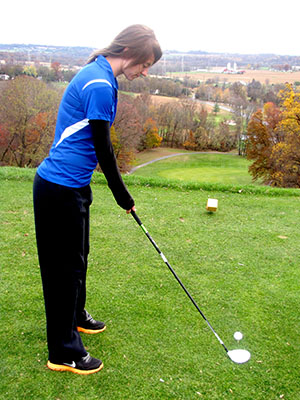 Photo by Daniel Walmer Mandy Sheckard, an Elizabethtown College student, prepares to drive a golf ball at Sunset Golf Course's scenic 10th hole during Elizabethtown College Golf Day on Friday, Nov. 8. If you see young foursomes sporting Elizabethtown College attire mixed among the groups of seasoned veterans at Londonderry Twp.'s Sunset Golf Course in the coming months, don't be surprised.

It's part of the master plan of Mandy Sheckard, a communications major at the college, to bring students to the course, a plan jumpstarted by Elizabethtown College Golf Day on Friday, Nov. 8.
Sheckard's plan to forge a relationship between the college and golf course was sparked by a conversation with township officials that took place last spring when she tried to convince them to purchase advertising with the college.
The township told her there was a problem: They didn't mind advertising if it worked, but they hadn't been receiving much business from college students.
"We have advertised with them, but nothing every came out of it – nobody ever came here," said Beth Graham, the township's office manager.
Both Graham and Sheckard recognized the potential for a partnership between the course and the college.
"We're trying to create a relationship with college students," Graham said. "We think it's a good alternative for the college kids to the local bars. It's a good place for college kids to come and hang out."
So Sheckard – who was drawn to the course by its great views, outdoor deck with music, and "the best burgers I've had in a long time" – decided to devote her college capstone project to promoting the course.
"Although it is a golf course, there's so much here to do," she said.

You can read the full story in our printed edition or our e-Edition.