Gossard pitches Raiders to 2-0 victory over Palmyra
Posted 4/29/14
Middletown pitcher Sarah Gossard shut down Palmyra on just three hits, leading the Blue Raiders to a 2-0 victory on Thursday, April 24 at Middletown.Photo by Don Graham - Middletown's Carly Wolfe, bottom, slides safely into second base …
Gossard pitches Raiders to 2-0 victory over Palmyra
Posted
Middletown pitcher Sarah Gossard shut down Palmyra on just three hits, leading the Blue Raiders to a 2-0 victory on Thursday, April 24 at Middletown.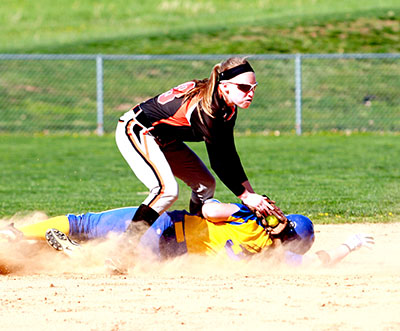 Photo by Don Graham - Middletown's Carly Wolfe, bottom, slides safely into second base against Palmyra.
The Raiders (7-4, 3-3 in the Mid-Penn Conference Keystone Division) scored a run in the first inning and added an insurance run in the sixth in the win. Palmyra fell to 6-7, 2-3 in the division.
Gossard pitched well against another division rival, Susquehanna Twp. (4-6, 1-3) on Tuesday, April 22, but the Raiders lost to the Indians, 1-0. Both teams had only two hits in the game.
Susquehanna Twp. pitcher Allison Hartman recorded a shutout.
Comments