Gossard no-hitter, Marion home run lead Raiders to win
Posted 4/15/14
Pitcher Sarah Gossard threw a no-hitter and Halle Marion hit a solo home run as Middletown defeated Susquehanna Twp., 10-0 on Saturday, April 12.Photo by Phil Hrobak - Middletown's Cynthia Decker, left, grabs a fly ball for an out at …
Gossard no-hitter, Marion home run lead Raiders to win
Posted
Pitcher Sarah Gossard threw a no-hitter and Halle Marion hit a solo home run as Middletown defeated Susquehanna Twp., 10-0 on Saturday, April 12.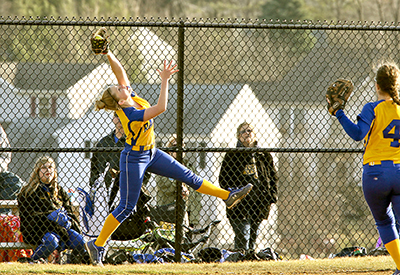 Photo by Phil Hrobak - Middletown's Cynthia Decker, left, grabs a fly ball for an out at first base during a game against Bishop McDevitt.
The victory improved the Blue Raiders' record to 5-2, 1-2 in the Mid-Penn Conference Keystone Division.
Marion's home run, which she hit in the second inning, staked the Raiders to a 4-0 lead.
It was the first division loss of the season for Susquehanna Twp. (3-3, 1-1).
Marion hit a grand slam and Gossard added a solo home run in the Raiders' 11-6 victory over visiting Hershey on Thursday, April 10.
Marion's slam capped Middletown's 6-run third inning that increased the Raiders' lead to 9-2. Gossard's homer extended the lead to 11-4 in the sixth inning.
The Raiders began the week with an 8-5 loss to Bishop McDevitt on Tuesday, April 8 at Bishop McDevitt. Middletown committed five errors in the loss to the Crusaders (5-3, 2-3).
Comments