GOLD MEDALISTS: Two Middletown baseball players help Capital Region win Keystone State Games
Posted 8/5/14
Photo by Jodi Ocker Middletown Area High School baseball players Jordan Flowers, left, and Zack Sims wear the gold medals they won in the Keystone State Games. Their team, Capital Region, defeated Lehigh Valley, 4-3, in the gold medal game.Two …
GOLD MEDALISTS: Two Middletown baseball players help Capital Region win Keystone State Games
Posted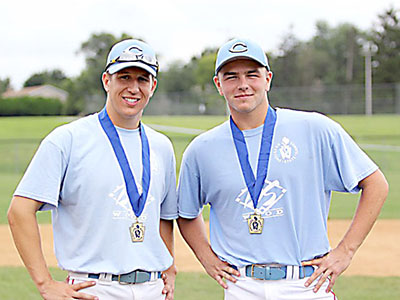 Photo by Jodi Ocker Middletown Area High School baseball players Jordan Flowers, left, and Zack Sims wear the gold medals they won in the Keystone State Games. Their team, Capital Region, defeated Lehigh Valley, 4-3, in the gold medal game.Two Middletown Area High School baseball players won gold medals in the Keystone State Games, leading the Capital Region team to a 4-3 victory on Sunday, Aug. 3 at East Pennsboro High School.

Middletown pitcher/third baseman Zack Sims, who pitched in the gold medal game, was named most valuable player in the tournament. He will be a senior next season for the Blue Raiders.

Jordan Flowers, a pitcher/outfielder, was Middletown's other gold medalist.

Two Middletown underclassmen, Jimmy Fitzpatrick and Noah Zimmerman, played for Capital's junior division team that lost the bronze medal game to Lehigh Valley on Sunday at Veterans Park, Susquehanna Twp.

In the scholastic division, which features players who will be seniors and juniors in the upcoming school year, Capital defeated Metro – a team from the Philadelphia area – in an 8-1 rout to start the Games.

Capital posted a 4-3 victory over Blue Mountain, then beat Pocono, 7-2.

Capital finished the first round undefeated, beating Nittany, 6-3 and Lehigh Valley, 1-0, before meeting Lehigh Valley again in the championship.

Sims and Flowers won silver medals in baseball at the games in 2013. Capital lost the gold last year on a rare rule violation.
Comments