Falcons sweep three from division rivals
Posted 4/9/13
Lower Dauphin won three games over Keystone Division rivals in softball last week, downing Harrisburg, Bishop McDevitt and rival Hershey.
Falcons sweep three from division rivals
Posted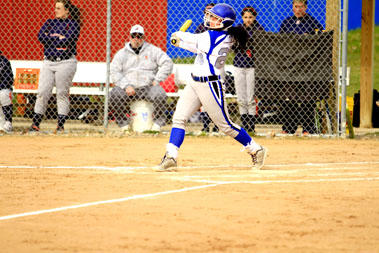 Photo by Don Graham Lower Dauphin's Madison Kotchey smacks a ball into the outfield in a 14-4 victory over rival Hershey at Lower Dauphin. Kotchey hit a home run in a 10-6 victory over Harrisburg three days earlier.Madison Kotchey hit a home run in the Falcons' 10-6 victory over Harrisburg at Hummelstown on Monday, April 1. Lower Dauphin (4-1) scored four runs in the sixth to win the game for the comeback victory over the Cougars (1-3).
The Falcons beat Bishop McDevitt (2-3) 10-0 on Tuesday, April 2 on the road, as pitcher Steph Knaub allowed only three Crusader hits. LD collected 16 hits in the victory.
Lower Dauphin downed rival Hershey (0-4) 14-4 on Thursday, April 4 in Hummelstown, overcoming an early 4-1 deficit and ending the game in the fifth with five runs. The Falcons' Jamie Knaub and Megan Saich hit home runs.
Saich's three-run homer helped seal the victory in the fifth.
Comments