Falcons end season on a high note
Posted 2/11/14
Photo by Noelle Barrett - Lower Dauphin's Erika Noss (2) takes a jump shot over Cedar Cliff defenders.It was a night full of emotions as the Lower Dauphin girls' basketball team suited up for its last home game on Thursday, Feb. 6. With the …
Falcons end season on a high note
Posted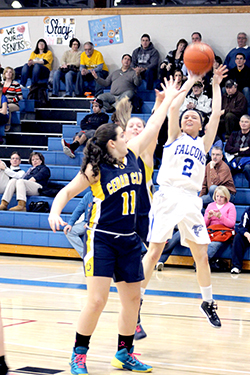 Photo by Noelle Barrett - Lower Dauphin's Erika Noss (2) takes a jump shot over Cedar Cliff defenders.It was a night full of emotions as the Lower Dauphin girls' basketball team suited up for its last home game on Thursday, Feb. 6. With the excitement in the crowd, the last home game for the seniors and TV cameras on the sidelines, the Falcons didn't let pressure get the best of them – they defeated Cedar Cliff, 45-22.
"It's an emotional night. I thought for Senior Night they played pretty well," said Coach Bob Heusser. "It's hard to control your emotions and excitement and so-forth…all the seniors did well for the type of night it was."
For Lower Dauphin's Erika Noss, the last home game of the season was motivation. The Falcons (12-10, 9-7 in the Mid-Penn Conference Keystone Division) did not qualify for the District 3 playoffs.
"I think it really motivated us and fueled us to play our hardest, and play our hearts out because it was the last time we were going to be playing on that floor," Noss said.
For the full story, CLICK HERE to subscribe to the Press And Journal.
Comments