Falcon runners "want to be great,'' could have successful year, coach says
Posted 8/28/12
By Jim LewisPress and Journal StaffThere are football camps, basketball camps and baseball camps during the summer where high school kids can hone their skills in their favorite sport. Wouldyou believe there is a cross country camp, too? Yes, there …
Falcon runners "want to be great,'' could have successful year, coach says
Posted
By Jim Lewis
Press and Journal Staff


There are football camps, basketball camps and baseball camps during the summer where high school kids can hone their skills in their favorite sport. Wouldyou believe there is a cross country camp, too?
Yes, there is such a thing - and several runners on the Lower Dauphin cross country team went to one this past summer, at Shippensburg University. Others got together during the summer to run, instead of sitting by the pool or spending hot, lazy days at home. Such dedication and hard work should propel the Falcons, who have earned historic accomplishments in the past two seasons, to the top again this fall, predicts Coach John Butler.
The boys' team qualified for the PIAA State Championship last year for the first time in the school's history, while the girls' team qualified for the championship for the first time in 2010. The boys should be just as strong this year, while the girls should be at the top of the Keystone Division despite losing good runners to graduation last spring, said Butler.
"These guys really want to be great,'' he said. "They show up, they have a good attitude and they want to work.''
"My job's pretty easy,'' he quipped.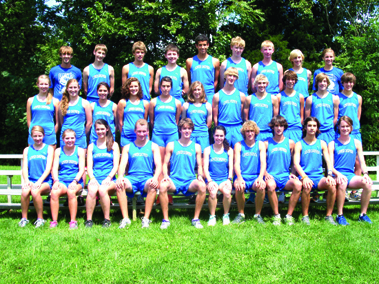 The boys won all six of their meets last season, and should be just as strong this fall, said Butler. Junior Jeff Groh, who won the Harrisburg Mile this past summer in his age group and the District 3 AAA title last season, and senior Cole Nissley, an all-district runner last year, will lead the boys, while a "second pack'' of good runners should make the Falcons formidable, he said.
"They're just a tight-knit group of guys who want to be great,'' said Butler.
The boys should compete with Hershey for a division title this season, he predicted.
The girls won five of six meets last year and claimed a division title, but young runners must step up if the Falcons are to win the division again, said Butler. Three of Lower Dauphin's top four runners last year have graduated, while the PIAA's move of girls' soccer from the spring to the fall this year has put holes in the Falcons' lineup.
Junior Dee Dee Shea, who finished 16th in the 2-mile run in the state last year, will lead the girls this fall. "She's obviously a great asset to have leading the way,'' said Butler.
A pack of good runners has emerged behind her, said Butler. "There are about five girls who run tough,'' he said. "We'll have to rely on them to push each other.''
Lower Dauphin should finish third behind experienced Palmyra and talented Hershey, Butler predicted.