Experience is Raiders' weapon
Posted 8/28/12
By Jim Lewis Press And Journal Staff With a number of experienced starters returning this fall, Middletown's volleyball team could move up in the Mid-Penn Conference's Colonial Division. The Blue Raiders is a team that committed to youth a …
Experience is Raiders' weapon
Posted
By Jim Lewis
Press And Journal Staff
With a number of experienced starters returning this fall, Middletown's volleyball team could move up in the Mid-Penn Conference's Colonial Division.
The Blue Raiders is a team that committed to youth a couple years ago and has grown together. Only one returning starter is a senior this fall. "They have been playing with each other for the past three years and could really be good competition this year,'' said Coach Elisabeth Seibert.
Take, for example, Senior Alex Seiger – she has played for Middletown since she was in the ninth grade. She will be Middletown's outside hitter this fall.
And junior Emily Mattes, who also played as a ninth-grader. "I was throwing her to the wolves,'' Seibert quipped last season. This fall, Mattes will be an outside hitter, moving from the middle hitter position she played last season.
Setter Jordan Arnold also returns from last season, choosing to play volleyball instead of soccer, a sport that was moved by the PIAA from the spring to the fall. "We are fortunate to have her back,'' said Seibert.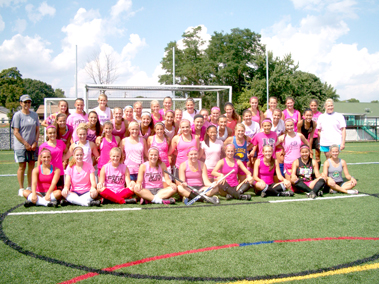 Volleyball is only in its eighth season at Middletown, a smaller school with a premium on players.
Seibert's team has played together for a while, though, and that experience could pay off this fall.
"They all seem to really get along on and off the court,'' said Seibert.
Comments