E-town students buy Thanksgiving dinner for 31 needy families
Posted 11/26/13
Submitted photo Caitlin Pflaum, center, an eighth-grade communications arts teacher, helps students Valerie Ferrarelli, left, and Madison Burkman, right, prepare Thanksgiving food baskets for needy families.Students, faculty and staff at …
E-town students buy Thanksgiving dinner for 31 needy families
Posted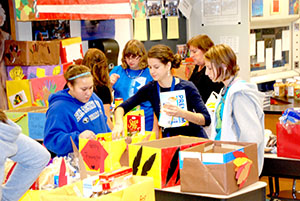 Submitted photo Caitlin Pflaum, center, an eighth-grade communications arts teacher, helps students Valerie Ferrarelli, left, and Madison Burkman, right, prepare Thanksgiving food baskets for needy families.Students, faculty and staff at Elizabethtown Area Middle School collected enough money to buy Thanksgiving dinner baskets for 31 needy families this fall - including frozen turkey, stuffing, yams and gravy.
The money was raised by the school's Feathers for Families program - the school's eighth-grade community service project – where students sold giant paper feathers for a quarter or $1 that were used to construct a giant turkey in the school lunchroom.
The effort raised $3,338.39, the most since the drive was begun in 1995.
In addition to the holiday food items, the baskets contained other products like peanut butter, pasta, tomato sauce and soup. In the first year, the school raised $750, enough to provide Thanksgiving dinner to eight families.
Prior to the Thanksgiving break, about a dozen students gathered after school to pack the items into food baskets for delivery to the families. In addition to the after-school packers, eighth graders served in various other capacities as part of the project including feather sellers and hangers, money counters, shoppers and food basket distributors.{jcomments on}