District Title? Check: Rollers bury Halifax, 76-27 for District 3 championship
Posted 3/5/13
Walking into Hershey's Giant Center, the Steelton-Highspire Rollers were excited, pumped up and confident. The stakes were high, and last year, the Rollers faced a devastating loss against Lebanon Catholic, 84-78, in the District 3 Class A …
District Title? Check: Rollers bury Halifax, 76-27 for District 3 championship
Posted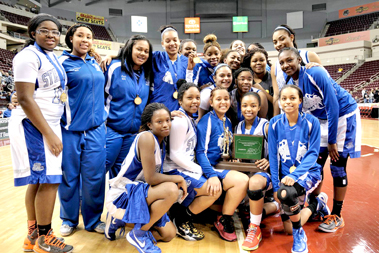 Press And Journal Photo The Steelton-Highspire girls' basketball team poses with its District 3 Class A championship trophy and gold medals at the Giant Center after beating Halifax in the title game.The Rollers earned redemption for that loss, as they flattened Halifax, 76-27 on Thursday, Feb. 28.
Malia Tate-DeFreitas scored a game-high 32 points, and added six assists, six rebounds, and four steals for Steel-High. Amber Hess-Moore added 8 points, Jazmine Blanding added 7 points and Khadijah Robinson scored 7 points and grabbed 11 rebounds.
Steel-High got things rolling with a 23-0 run, beginning with three baskets by Tate-DeFreitas. With assists by Tate-DeFreitas, Hess-Moore and Ceani Beaden each added 2 points for a 10-0 lead.
The Wildcats missed shots, and defensive pressure by the Rollers led to turnovers. With 5:30 left, Tate-DeFreitas and Blanding pressured the Wildcats, and Tate-DeFreitas made a steal, taking the ball for a layup. Tate-DeFreitas added a free throw, and Hess-Moore slammed a 3-pointer to increase the Rollers' lead to 16-0.
Quick teamwork and passing by Tate-DeFreitas and Hess-Moore gave the Rollers 2 more points with Tate-DeFreitas' shot at the basket.
With a foul against Steel-High's Robinson, Halifax had an opportunity to score with free throws by Kylee Sorichetti, but a violation took the lone free throw she scored off the board.
Tate-DeFreitas added a free throw with 3:53 left, and Blanding and Robinson each sank a basket before the Wildcats would score.
Halifax's Tess Kieffer broke the Rollers' streak with a free throw, but Steel-High would only allow the Wildcats to squeak out an additional free throw in the first quarter.
Marlin Sanchez, Blanding and Tate-DeFreitas each posted a basket, to end the quarter with a 29-2 lead.
Kieffer posted the first points of the period, adding a basket for the Wildcats, but Hess-Moore answered with a shot from the 3-point line to increase Steel-HIgh's lead to 32-4.
Mistakes on both ends eventually landed the ball in Rollers' possession, and Tate-DeFreitas took advantage of it, sinking a 3-pointer.
The Rollers kept control of the ball with two more baskets by Tate-DeFreitas and Robinson to lead 39-4.
Kieffer added a basket for the Wildcats, and a steal and assist by Halifax's Rylee Gonsar gave Madison Bingaman the chance to sink a 3-pointer. But Steel-High's Blanding didn't miss a beat, adding 3 points to keep Halifax at a distance, 42-9.
With 3:37 left in the second quarter, the Wildcats tried to keep pace with Steel-High, tacking on 5 more points, but the Rollers scored 10 points with baskets by Miyah Viera, Tate-DeFreitas, Robinson and I'janique Simmons. A buzzer beater by Morgan Cox gave the Wildcats 2 more points to end the half down by a score of 52-14.
Robinson broke the ice in the third quarter with a basket, but Steel-High wouldn't score again until the 4:30 mark. The Rollers kept up their strong defense, but the Wildcats managed to tally 5 points.
A quick drive down the key by Tate-DeFreitas gave the Rollers 2 points and a 56-21 lead.
---
Tate-DeFreitas sank back-to-back baskets with 3:10 left, 60-23. After the Wildcats gained possession with 2:32 left, Tate-DeFreitas made a steal and sank 2 points, giving the Rollers a 62-23 lead.
The clock continued to wind down in the fourth, as Steel-High continued to use its reserve players throughout the game.
Cox put a small dent in the Rollers' lead with a basket early in the final quarter. With 6:40 on the clock, Tate-DeFreitas added a basket.
The Rollers continued to rally, with two more shots by Robinson and Tate-DeFreitas that gave Steel-High a 72-25 lead. Reserves Ayana Flowers and Malani Tate-DeFreitas stepped it up with a basket each to finish the scoring in the game.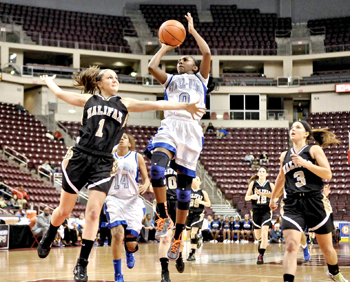 Photos by Bill Darrah Steelton-Highspire's Malia Tate-DeFrietas (0) drives down the lane against Halifax, scoring a game-high 32 points to lead the Rollers to the District 3 Class A title at the Giant Center.The win felt good, especially after losing the district championship last year, said Blanding. "We work hard, and we wanted to come and show this team how we play. It's pretty emotional since it's the last year to play with these girls, but I'm kind of happy because we have a good reputation."
Malia Tate-DeFreitas was happy with how well the team worked together.
"It feels good knowing we could make up for last year and the mistakes from that game," she said. "No other team can run like us."
"If we didn't win at districts, that would have been a disappointment," said Jeffrey Chisholm, Steel-High coach. "Our girls work hard all summer. Once the season starts, they work hard. They work hard in practice. To lose a district game, that would have stunned us."
Chisholm was proud of all of his Rollers, especially the reserves for stepping up in such an important game.
"A lot of people think once Malia leaves it'll be over for us, but it won't be," Chisolm said. "A game like this, I don't want our girls getting lazy. I put my subs in, and my subs score."
"These girls are still very hungry," he said.
Steel-High 90
Upper Dauphin 40

The Rollers showed how hungry they are in their semifinal matchup against Upper Dauphin on Tuesday, Feb. 26 at Cumberland Valley High School.
---
Chisholm played 14 Rollers, and all played a part in the 50-point victory.
Tate-DeFreitas added a game high 30 points, and added seven assists, seven steals and six rebounds. Robinson added 13 points and 12 rebounds, Viera scored 12 points and grabbed five rebounds, and Hess-Moore added 10 points. Beaden contributed 10 rebounds and 9 points.


Steel-High started the game with a 5-0 lead on a 3-pointer by Blanding and 2 points by Tate-DeFreitas off a steal.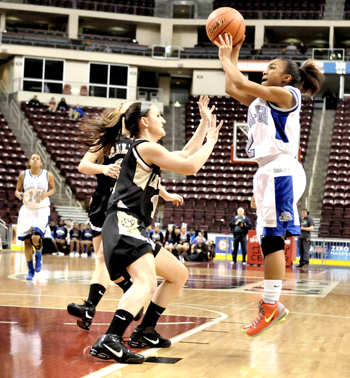 Steelton-Highspire's Jazmine Blanding (2) takes a shot in the Rollers' victory over Halifax in the District 3 Class A championship game at the Giant Center.McKenzie Miller gave Upper Dauphin its first basket, but Hess-Moore nailed a 3-pointer and Tate-DeFreitas added a basket to give the Rollers a 10-2 lead.
Upper Dauphin began to warm up, but Steel-High was always one step ahead of the Trojans.
Tate-DeFreitas added 10 more points, Viera and Khadijah each added a basket and free throw, and Beaden hit a basket to give the Rollers a 28-14 lead at the end of the first quarter.
The Rollers kept the same, quick pace, and the Trojans couldn't compete in the second quarter. The Rollers put up 27 points to the Trojans' 11 points. Upper Dauphin only hit two baskets in the second quarter and made seven of 16 free throws.
Meanwhile, the Rollers shot consistently, with three baskets by Tate-DeFreitas and two baskets each by Beaden and Viera. Hess-Moore added a 3-pointer, and Robinson and Sanchez each sank a basket. The Rollers left the court at halftime confident with a 55-25 lead.
In the second half, the Rollers had a mix of starters and reserve players on the court, and still out-shined the competition. Upper Dauphin was only able to put up 15 points to the Rollers' 35 in the final two periods.
Rollers starters put up steady scoring and kept possession most of the half. With 3:37 left in the game, Steel-High's Flowers hit three consecutive baskets, and added a steal and assist in the final seconds to produce the final score.
"Today, we played as a team. All we wanted to do was push the ball. I think we did that," said Hess-Moore.
"I was really pleased with my reserves," said Chisholm. "I always say offense sells tickets, defense wins games and rebounds win championships, and that's our fuel. We just got to out rebound the other teams."
Steel-High will play Northeast Bradford on Saturday, March 9 in the first round of the PIAA Class A tournament at 6:30 p.m. at Northern York High School.
Noelle Barrett: 717-944-4628, or noellebarrett@pressandjournal.com
Comments