Crisswell scores hat trick in Senior Night loss to Penn Manor
Posted 2/4/14
Photos by Phil Hrobak Middletown's game against Penn Manor was the last scheduled home game for seniors C.J. Gabner, left, and Noah Crisswell. Crisswell scored a hat trick in the game.Senior Noah Crisswell scored a hat trick on Senior Night, but …
Crisswell scores hat trick in Senior Night loss to Penn Manor
Posted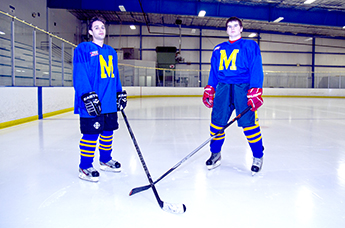 Photos by Phil Hrobak Middletown's game against Penn Manor was the last scheduled home game for seniors C.J. Gabner, left, and Noah Crisswell. Crisswell scored a hat trick in the game.Senior Noah Crisswell scored a hat trick on Senior Night, but Middletown fell to Penn Manor, 11-3, on Friday, Jan. 31 in a CPIHL game at Twin Ponds East.


The Blue Raiders (4-12-1, 9 points) have one game left in their season, a scheduled road game against powerful Susquehanna Twp. (14-2-0, 28 points) at 7:45 p.m. at Twin Ponds East.


Crisswell scored two goals within 25 seconds in the second period to bring Middletown to within four, 6-2, at 11:26, but Penn Manor (14-2-0, 28 points) broke the string with a goal to take a 7-2 lead.


Crisswell's third goal of the second period, at 15:09, brought Middletown again within four, 7-3.


Kyle Petoni and Lindy Vicari each scored a hat trick for Penn Manor. Middletown goalie Robert Allen made 49 saves. Penn Manor outshot Middletown, 60-19.


Middletown 4
Northern York 3
Nick Maneval, the team's leading scorer, scored two goals and C.J. Gabner scored a goal and tallied three assists in the Raiders' victory over Northern York (1-16-0, 2 points) on Monday, Jan. 27 at Twin Ponds East.


Maneval's second goal of the game, at 5:29 of the third period, gave Middletown a 4-1 lead, and the Raiders held off the Polar Bears for the win.


Maneval's first goal at 14:03 of the first period tied the game, 1-1, before the Raiders took charge with a two-goal second period.
Middletown goalie Dustin Wolfe made 18 saves in the victory. The Raiders outshot Northern York, 40-21.


Maneval leads Middletown in goals (18), assists (10) and points (28).
Comments