Christie spoof opens at MAHS
Posted 11/12/13
Submitted Photo The cast of "Ten Little Dunces," a spoof of Agatha Christie, at Middletown Area High School.Many have enjoyed Agatha Christie plays but chances are most will never have seen any like the one that will be staged by …
Christie spoof opens at MAHS
Posted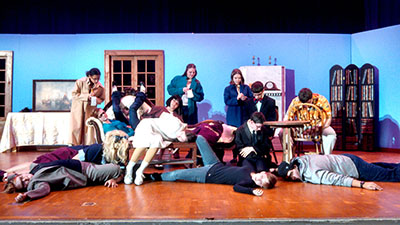 Submitted Photo The cast of "Ten Little Dunces," a spoof of Agatha Christie, at Middletown Area High School.Many have enjoyed Agatha Christie plays but chances are most will never have seen any like the one that will be staged by Middletown Area High School students.

The local students will be performing "Ten Little Dunces," a spoof of Christie's famous mystery thriller "Ten Little Indians." The presentation will be in the school auditorium on November 15 and 16.

"It's pretty funny," said senior David Geisweit, who plays Judge Slayer. "I like the fact that it's really silly."

In the parody, 10 people who have killed someone through lack of mental ability are invited to Dunce Island to face their own death through such embarrassing means as being sucked into a vacuum cleaner tube.

"I always have enjoyed Agatha Christie mysteries, and I thought, what better way to do tribute than with a spoof, and a very well-thought-out spoof?" Ryan Boyles said.

In addition to the opportunity to laugh, Boyles encourages people who enjoy theater to come out to support the youth - like senior Chelsea John, who has acted in over 30 plays.

You can read the full story in our printed edition or our e-Edition.