CHAMPIONS: Falcons stop Emmaus, 2-1, claim back-to-back titles
Posted 11/19/13
The Lower Dauphin field hockey team has had its share of success over the years. Last season, LD won its fifth state title. But going into the PIAA Class AAA state championship game again this season, the Falcons wanted to make history – and they …
CHAMPIONS: Falcons stop Emmaus, 2-1, claim back-to-back titles
Posted
"It's still so surreal,'' LD senior Maggie Mostoller said after the victory. "I think this time last year we all called out to each other and we were like, 'This is one of the best moments of our lives' and 'We're going to remember this forever.' "To do it again, and have it happen twice, is just the coolest thing."


Emmaus had 10 state championships under its belt, and won its 25th consecutive district title this year. "They have an amazing tradition," Kreiser observed. But that didn't phase the Falcons. Lower Dauphin led the championship game throughout the entire contest.
Photos by Noelle Barrett


"I couldn't picture us losing. I just felt so confident," said LD senior Taylor Lister. "Our team has the most heart out of any team I've ever been on, and I think that just helped us so much."


The Falcons first scored on a goal from Lister on a breakaway on the right side of the circle. The ball hit the goalpost and landed in the Emmaus cage with 10:55 left in the first half.


From there, Lower Dauphin had six penalty corners in the next nine minutes, but was unable to connect with the cage. But with 58 seconds left in the first half, LD's Aliza Mizak scored a goal on a pass from junior Gini Bramley, giving the Falcons a 2-0 lead at halftime.


The Falcons kept the momentum going, although they weren't able to post any more points. The Green Hornets had few opportunities to score, or even to make moves. The Falcons out-shot Emmaus, 10-4, and dominated in penalty corners, 12.


A glimmer of hope came for Emmaus with just 36 seconds left in the game: A goal in the upper corner of the net by Krissy Mikelson.


But it was too late for the Hornets.


The clock quickly wound down, as Falcon fans and players waited in anticipation.


"It didn't really sink in for me at first," said Falcon player Madison O'Neill. "It was after, like, the final 10 seconds, and just watching everybody getting ready to storm the field – that's when it really sank in."


In 2007, Emmaus defeated Lower Dauphin, 1-0 in the state semifinals, the closest the Falcons came to back-to-back state titles before this season. Emmaus went on to win the state title that year.
---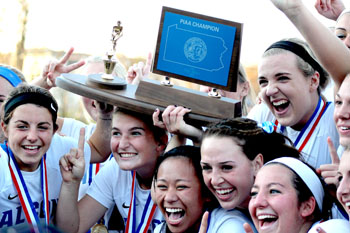 "I just have so much respect for Emmaus,'' said Lower Dauphin Coach Linda Kreiser. "I know what a dominant team they are ... They're very powerful and so quick on transitions. For me, it was really exciting to see this game. This was like a game of two outstanding programs."


The Falcons had their eye on the prize from the start of this season.


"This was our goal from the beginning, that we were going to come out with the state championship twice,'' said LD player Devyn Berry. "It was our hard work that paid off. It feels amazing."
Kreiser has coached all six Lower Dauphin teams that have won state titles. Falcon players credited her for their success this year.


"Our coach (Kreiser) has the most impact on us," said LD player Anna Smuda. "She has the most experience out of any person I know, and she sees our talent and what will work and what won't work."
For LD's seniors, the championship also marked the final time they played for their school. More than the wins, the players said they are going to miss their Falcon family.


"This is our family, our sisters," Barry said. "We just had our banquet (Friday), and it was really emotional. This is it. It's finally kicking in that it's our last time playing for Lower Dauphin field hockey."


Kreiser is already looking ahead to next season, but admits it's hard to see the seniors leave the program.


"They were outstanding players and leaders for our team," Kreiser said. "When you played the very last day of the season, you've gone as far as you could. So you're just really happy that you made it, and winning it is just icing on the cake."
Noelle Barrett: 717-944-4628, or noellebarrett@pressandjournal.com
Comments