Bullseye!: Last-minute field goal lifts Falcons over Wilson, 17-14
Posted 11/26/13
Julius' 46-yard kick sends LD to the District 3 title game for first time in nearly 20 years
Overcome with emotion, Lower Dauphin kicker Joe Julius wiped tears of joy from his eyes as he stood on the football field with …
Bullseye!: Last-minute field goal lifts Falcons over Wilson, 17-14
Posted

Just 16 seconds remained on the game clock. The Falcons were tied with Wilson, the defending District 3 Class AAAA champion, at 14 in a semifinal district tournament game. A light rain fell from the heavens. The snap was high, but holder Jason Shellenberger got it do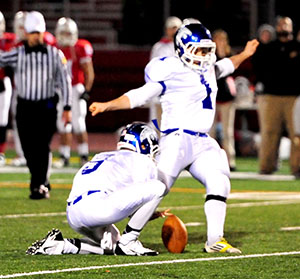 Photo by John Diffenderfer Lower Dauphin kicker Joe Julius launches a game-winning 46-yard field goal attempt through the uprights with 16 seconds left to give the Falcons a 17-14 victory over top-seeded Wilson in a District 3 Class AAAA semifinal playoff game. wn.

Julius struck the bottom of the ball, sending it high into the night.

It was on target. And by the length of just a few footballs, it had the distance, sneaking over the crossbar from 46 yards out.

Ten seconds and two failed Wilson pass attempts later, the Falcons (12-1) had beaten Wilson 17-14 on Friday, Nov. 22. They stormed the field at John Gurski Stadium in West Lawn having just earned a berth in the District 3 championship game for the first time in nearly 20 years.

"Nothing was going through my mind. I just kicked it," said Julius after being swarmed by reporters following his game-winner. "I was so nervous. I've been waiting for that for four years, so I'm so happy that happened. I love these guys more than anything. We've been through the worst times and now we're going through the best. It's awesome."

Coach Rob Klock called Julius "an unbelievable weapon.''

"He really is a great kicker, but Friday night he showed he is also a pretty cool customer," Klock said.

That cool customer's clutch kick was the culmination of the entire team's hard-fought effort that lifted the fourth-seeded Falcons over the top-seeded Bulldogs (12-1).

The Falcons set the tone offensively on their opening possession. After the defense forced the Bulldogs to punt, LD took over at its own 19-yard line with 8:34 remaining in the first quarter. The Falcons ran right at Wilson, and 18 plays and 10:24 later quarterback Troy Spencer ran the zone-read option to perfection when he faked an inside give and ran 7 yards off right end for a touchdown. Julius' extra-point gave Lower Dauphin the early 7-0 advantage with 10:10 left in the second quarter.

"That first drive gave our offense some confidence," said Klock about his team's dominant opening march. "Going 18 plays and finishing with a touchdown was huge."

After their first two drives ended in punts, the Bulldogs showed why they had yet to lose a game when, on their third possession, they responded by driving 75 yards in nine plays for a touchdown. Running back Shane Dantzler gashed LD's strong defensive front for 13 yards and a score that tied the game with 1:06 left in the first half.

Lower Dauphin got a spark to begin the third quarter when Nate Dorwart returned the second half kickoff to Wilson's 45-yard line. The Falcons broke out a trusted trick play for the third time this season when Dorwart took an end around from Spencer and hit tight end Trey Klock downfield for a 25-yard gain.

Spencer took matters into his own hands for the second time, punctuating the seven-play drive by keeping the ball and scampering off left end before lowering his shoulder, laying out a Bulldog defender, and crossing the goal line. Julius converted the PAT to put LD up 14-7 with 7:53 remaining in the third quarter.
---

The Falcon defense put an end to Wilson's ensuing drive when defensive back Spencer Snyder made an impressive interception of Bulldog quarterback Matt Timochenko's pass across the middle. Snyder went up and snared the ball at its highest point, taking it away from the intended Bulldog receiver at LD's 33-yard line.

Late in the third quarter, Lower Dauphin avoided calamity when punter Adam Domovich gathered a bad snap that sailed over his head, kept his cool and got his kick off without turning the ball over. It was another in a long line of crucial special teams' plays that helped propel LD to victory.

"I think our special teams unit exemplifies this team; everyone contributes," said Rob Klock. "Jason Shellenberger is our holder on extra points and field goals. If a snap is slightly off, he gets it down. Nate Dorwart and Adam Zeiders have been consistent all year getting us great field position as returners. Adam Domovich has done a great job punting and pinning opponents deep in their own territory, but the way he handled the ball he had snapped over his head was amazing. He didn't panic. He just got to the ball, turned and kicked. That was huge."

With the offense scoring two touchdowns against a Wilson defense that had allowed just 6 points in its first two District 3 tournament games, and a special teams unit that produced two big, timely plays, it was the defense's turn to flex some muscle: On a third-and-4, Trey Klock sacked Timochenko for a 10-yard loss.

Later, Domovich came through again when his third punt of the night pinned Wilson deep in its own territory at the 9-yard line with 8:39 remaining in the fourth quarter. But, after struggling to move the ball against Lower Dauphin's defense for much of the game, the Bulldogs put together a season-saving drive that saw them march 91 yards and punch the ball into the end zone thanks to a shifty, tackle-breaking, 13-yard run by Dantzler.

With 4:38 left to play and momentum now firmly in the corner of the Bulldogs, the Falcons were faced with a first-and-10 from their own 25-yard line. All that stood in the way of a place in the district championship game was 75 yards, a stingy defense, a light rain and a suddenly loud, rejuvenated contingent of Wilson fans.

Lower Dauphin stuck with the game plan that got it there.

The Falcons kept the ball on the ground and converted a key third-and-2 from their own 44-yard line. A 15-yard face mask penalty against Wilson helped, too. LD's offense, now on the Bulldogs' side of the 50-yard line, continued to run the ball, milking the clock over the course of nine plays and inching the pigskin further into Wilson territory, doing all it could to give Julius a chance to win the game.

"At the end of the game when it was 14-14, our offense had the same attitude (as it did on our first possession of the game) – we are going to drive the field," Rob Klock said about his team's final march. "This time we knew we only needed to get into field goal range, and Joey (Julius) would do the rest."

The field goal unit took the field. As his coach predicted, Julius did the rest.

Now only second-seeded Cumberland Valley (11-2) stands between Lower Dauphin and a District 3 championship. The Falcons will face the Eagles at the friendly confines of Hersheypark Stadium, where Lower Dauphin plays its regular-season home games, for all the marbles at 6 p.m. on Saturday, Nov. 30.

"We are so proud of this group of young men and the success they are experiencing," said Rob Klock. "They deserve this. The amount of work they have put into this is overwhelming.

"I think it teaches everyone that eventually hard work does pay off,'' the coach said. "I hope everyone involved in this program truly believes this, and if they ever doubt it, all they have to do is think of the 2013 Falcons." {jcomments on}