Another nail-biter: Falcons win a miracle, lose a miracle against Wildcats, Colts
Posted 2/11/14
Photo by Noelle Barrett - The Lower Dauphin student section, Falcon Nation, dressed in red, white and blue.The final two home games of the regular season for the Lower Dauphin boys' basketball team were decided in the final seconds – …
Another nail-biter: Falcons win a miracle, lose a miracle against Wildcats, Colts
Posted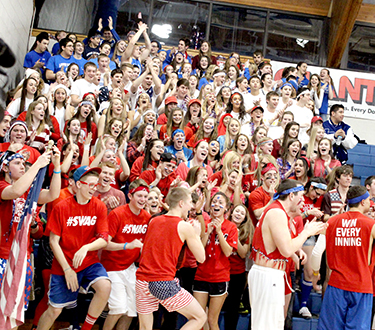 Photo by Noelle Barrett - The Lower Dauphin student section, Falcon Nation, dressed in red, white and blue.The final two home games of the regular season for the Lower Dauphin boys' basketball team were decided in the final seconds – so what else is new? Many of the Falcons' games this season were won and lost by single digits, including a buzzer-beating shot in a loss to rival Hershey.
So it wasn't a new situation when last-second shots won or lost a game for the Falcons against Cedar Cliff and Mechanicsburg.
On Saturday, Feb. 8, a buzzer-beating 3-point shot by Ryan Naccarato lifted Lower Dauphin to a 62-59 victory over Mechanicsburg in Hummelstown.
On Thursday, Feb. 6, a long, last-second, miracle-coaxing shot by Lower Dauphin missed in a 56-54 loss to Cedar Cliff.
The Falcons (13-8) qualified for the District 3 Class AAAA playoffs, opening with a first-round game against Central Dauphin East (13-9) at 7:30 p.m. on Friday, Feb. 14 at Central Dauphin East. The winner faces top-seeded Wilson at 7 p.m. on Wednesday, Feb. 19 at Wilson.
For the full story, CLICK HERE to subscribe to the Press And Journal.
Comments