ANOTHER COMEBACK: Raiders score 7 in third, vanquish Crusaders, 12-8
Posted 4/16/13
For most high school softball teams, an early 5-0 deficit would be daunting to overcome. But Middletown Coach Mike Thomas knew his team had Keystone Division rival Bishop McDevitt right where they wanted them."I have confidence in these kids," …
ANOTHER COMEBACK: Raiders score 7 in third, vanquish Crusaders, 12-8
Posted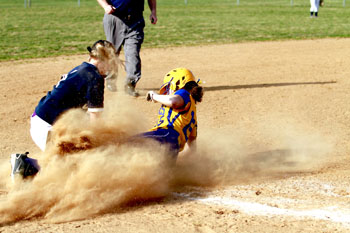 For most high school softball teams, an early 5-0 deficit would be daunting to overcome. But Middletown Coach Mike Thomas knew his team had Keystone Division rival Bishop McDevitt right where they wanted them.

"I have confidence in these kids," Thomas said. "They really should be called the Comeback Kids."

Thomas's confidence was well founded. The Raiders (2-3) stormed back with a 7-run third inning en route to a 12-8 victory over McDevitt on Tuesday, April 9 in Middletown . . .
You can read the full story in our printed edition or our e-Edition.
Comments