ALMOST: Rollers fall short against powerful Crusaders, 81-78
Posted 2/18/14
Looking for redemption after a loss to Bishop McDevitt the week before, the Steelton-Highspire boys' basketball team pulled out all the stops in its rematch with the Crusaders during the Mid-Penn Conference semifinals on Tuesday, Feb. …
ALMOST: Rollers fall short against powerful Crusaders, 81-78
Posted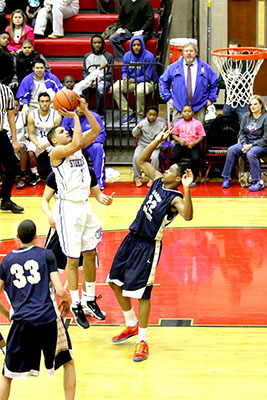 Photo by Jodi Ocker - Anthony Ferguson scores a basket during the game against Bishop McDevitt. Ferguson earned a double-double with 16 points and 10 rebounds.Whenever the Rollers took the lead, Bishop McDevitt would snatch it back. An example, at the end of the first quarter: Wright scored a bucket, giving the Rollers a 1-point lead, but Hudson-Emory answered with a buzzer-beater, ending the quarter with the Crusaders up, 23-22.
Bishop McDevitt never pulled away, but continued to hold a slight lead in the second quarter, 39-37. Going into the final quarter, Steel-High was down by just 60-56.
McCarthur banked a 3-pointer to up the Crusaders' lead 63-56 early in the fourth. But the Rollers cranked out 8 unanswered points – 3-pointers from Bowman and James Warren and a basket by Wright – to take a 64-63 lead, the Rollers' first since the opening quarter.
McDevitt regained the lead, however, and the Rollers played catch-up a few times. Then a shot from Jaron Grayer put Steel-High ahead, 72-71, with about 2:00 left in the game.
"We competed. That's our main goal,'' Hawthorne said. "That's our main focus every time we step out on the floor, to compete."
Hudson-Emory scored a basket to give McDevitt a 73-72 lead. The Crusaders extended their lead to 75-72 on a put-back by Milik Gantz.
Ferguson answered with a put-back to keep the Rollers in it with less than 1:00 left.
But McDevitt's Caleb Barwin added a basket and Gantz hit two free throws to give the Crusaders a 79-74 lead with only 28 seconds left.
The Rollers again tried to play catch-up, tightening the score on a basket from Haywood, but two McCarthur free throws with 18 seconds left gave the Crusaders a 5-point lead, 81-76.
Haywood finished off the game with another basket, but it wasn't enough to pull the Rollers to a win.
"We gave our full effort, but still we just hurt ourselves with turnovers and mental mistakes, just the little dumb fouls," Ferguson said. "Once we correct the little stuff, we'll be fine. We just have to stop the small mental errors."
The Rollers feel good going into the PIAA District 3 playoffs, but will have to work hard to recover from two back-to-back losses – both to the Crusaders.
"Losing two straight, we haven't lost two straight all year. It's really getting to us," Ferguson said. "I believe in my heart if we practice, we'll come ready to play."
Comments