Almost: Falcons hold powerful McDevitt for three quarters, fall in fourth, 25-14
Posted 10/15/13
Any head coach in Pennsylvania would love to take a lead over perennial powerhouse Bishop McDevitt into the fourth quarter of a hard-fought midseason football game.
Almost: Falcons hold powerful McDevitt for three quarters, fall in fourth, 25-14
Posted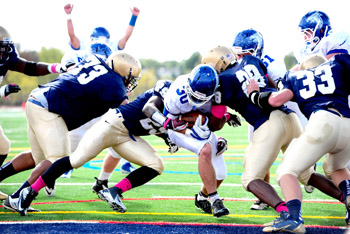 Photos by John Diffenderfer Lower Dauphin running back Dalton Yentsch (30) plows through Bishop McDevitt's defensive line to score a touchdown from 2 yards out.Lower Dauphin's Rob Klock is no exception. His Falcons were in such a position on Saturday, Oct. 12, leading the undefeated Crusaders 14-13 heading into the final period in front of a packed house at McDevitt's Rocco Ortenzio Stadium.

Unfortunately, the physical Falcon defense was asked to do too much for too long, and Bishop McDevitt rebounded from a mediocre first half of football to do just enough to escape with a 25-14 victory, keeping the Crusaders' perfect season intact and handing LD (6-1, 3-1 in the Mid-Penn Conference Keystone Division) its first loss of the season.

That stout defensive unit entered the day allowing just 5.7 points per game. Not only did it hold the dangerous McDevitt offense in check for three and a half quarters, it put the first points of the contest on the board when defensive end Ben Ross halted the Crusaders' 12-play, 5:30 opening drive by intercepting Nick Marsilio's swing pass and racing 78 yards down the left sideline for a touchdown. Joe Julius' extra point gave Lower Dauphin a 7-0 lead before its offense ever hit the field.
"Our defense held a very powerful offense in check for the most part," said Klock. "Ben Ross, returning the interception for a touchdown, was a perfect start. Both our inside linebackers gave us everything they had. Our big guys up front did not allow any big run plays and pass defense was good except for a few plays."
One of those few plays came on McDevitt's (7-0, 4-0) ensuing possession. Facing a fourth-and-8 at the LD 34-yard line, Marsilio turned a busted play into points. Taking the snap and avoiding the Falcon rush, he scrambled a bit to his right before buying time and rolling back left. After nearly 6 seconds of stalling, the quarterback heaved a rainbow down the left sideline that fell into the hands of an uncovered Kobay White in the left side of the end zone with 53 seconds left in the first quarter.

The Lower Dauphin defense responded by forcing back-to-back three-and-outs on McDevitt's first two second-quarter possessions and the Falcon offense finally got going midway through the stanza.
Facing a second-and-7 from his own 34-yard line, quarterback Troy Spencer corralled a high shotgun snap and pitched the ball to Nate Dorwart in the backfield. Dorwart caught the Crusader defense off guard when he heaved the ball down the right sideline and connected with fellow wideout Jake Shellenberger for a 26-yard gain.

From there, the Falcons kept the ball on the ground with Dalton Yentsch, melting the clock and wearing down McDevitt's defensive front in the process. Fittingly, Yentsch capped the drive with a hard-nosed 2-yard touchdown run with 34 seconds remaining in the first half.

Having just put together a 5:00, 10-play scoring drive and receiving the second half kickoff, Lower Dauphin appeared to be in the driver's seat. As the third quarter got underway, however, a resurgent McDevitt team turned the Falcons' Saturday afternoon cruise into tough sledding.

The Crusaders' defense tightened and LD went three-and-out on its first possession of the second half. Even when Yentsch thwarted an 11-play, red zone-reaching McDevitt drive by sacking Marsilio and forcing a fumble that was recovered by Falcon defensive lineman Corey Atkins, Spencer and company failed to take advantage – the Crusaders forced a second straight 1-2-3-punt series of the quarter.
---

Of the five Lower Dauphin second-half possessions, four went three-and-out.

Asked if he modified his play calling to try and run out the clock and keep the ball away from McDevitt's offense, Klock made it clear that it was not a matter of conservatism. Rather, it was the Crusaders' ability to adjust to the Falcons' game plan that made it so difficult to move the ball in the second half.

"We were just trying to stick to the game plan," he said. "Unfortunately, McDevitt did a nice job of slowing down our veer and prevented Troy [Spencer] from having his typical game on the ground. My hat's off to them for preparing so well to defend our scheme."

Defending LD's scheme was only half the reason for McDevitt's comeback. Late in the third quarter, the team's offense repaid the defense by finishing off its second scoring drive of the afternoon in similar fashion to the first.

Facing another fourth-and-8, Marsilio again bought time, scrambled away from the Falcon rush and lobbed a 24-yard touchdown pass to Bryce Hall inches from the left pylon.

Despite the deflating series of events, Lower Dauphin made another big play, this time on special teams, by blocking Bobby Zwigart's extra point attempt and preserving a 14-13 lead heading into the final quarter.

Before the Falcons knew what hit them, however, the Crusaders had the ball again – and it took them just four plays to go 43 yards and grab their first lead of the game.

On first-and-10 from the LD 14-yard line, Marsilio rolled right and hit a wide open Austin Anderson inside the 5-yard line. Anderson backed across the goal line as the hometown crowd erupted. Lower Dauphin denied McDevitt's 2-point conversion attempt and kept the deficit to 19-14 with 8:32 left to play.

The Falcon offense had time, but they had no answer for the Crusaders' suddenly inspired defense.
LD was forced to punt for the sixth time, and the gutsy Blue and White defense could not withstand the McDevitt onslaught any longer. The home team burned three more minutes off the clock before Rashad Lawson capped a 46-yard drive with a 3-yard touchdown run to ice the game with just 4:27 remaining in regulation.

The Crusaders controlled the time of possession and racked up 436 yards of total offense compared to just 116 for the Falcons. Spencer never got going on the ground running LD's veer offense and Yentsch racked up just 48 yards rushing on 13 attempts. Lower Dauphin threw the ball just eight times, once on a trick play and three times while trailing late in the game.

Marsilio went 16-for-26 through the air for 223 yards and a touchdown while McDevitt's highly-touted running back Andre Robinson rushed for 150 yards on 24 carries.

Tough as the defeat was, Klock expects his players to put their most recent outing behind them and keep their eyes on the bigger picture. He plans on having his team ready to face another tough, undefeated opponent in Keystone rival Cedar Cliff (7-0, 4-0) on Friday, Oct. 18.

"We are extremely proud of the hard work and the effort our players put into preparing to play a team as strong as McDevitt," he said. "After the game, we told them that this is a bump in the road. The big picture is the overall season. We have to move on and prepare for a very good Cedar Cliff team this week. We wanted that game but we also have to accept that we did not play our best, and to beat McDevitt you really have to play at a high level."{jcomments on}
Comments