A SEESAW BATTLE: Rollers lose tourney to Flying Dutchmen, 55-47
Posted 12/30/13
Watching the final game of the Annville-Cleona Holiday Tournament on Saturday, Dec. 28, Steelton-Highspire fans switched back and forth between frustration and hope as the contest between the Rollers and their host seesawed …
A SEESAW BATTLE: Rollers lose tourney to Flying Dutchmen, 55-47
Posted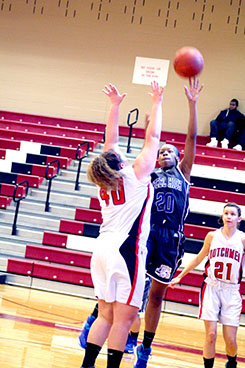 Watching the final game of the Annville-Cleona Holiday Tournament on Saturday, Dec. 28, Steelton-Highspire fans switched back and forth between frustration and hope as the contest between the Rollers and their host seesawed before them.


The Rollers trailed for most of the game, but remained determined, overcoming tough calls and hard-to-swallow mistakes. As the clocked ticked down in the fourth quarter, a win was still in Steel-High's reach.


But the pressure in the final seconds got to them, and the Rollers fell to Annville-Cleona, 55-47.


It was hard to compete against Dutchmen frontrunner Alex Siebecker, who netted 30 points, including her on-point 16-for-21 shooting from the foul line. Those scoring opportunities were at the hands of the Rollers, who racked up 24 team fouls.
For the full story, click here to subscribe to the Press And Journal.
Comments