A RECORD SEASON? Raiders emerge as tennis power with 11-win year
Posted 5/6/14
At the dawn of the 2014 season, uncertainty reigned supreme in the high courts of the Middletown Blue Raider boys' tennis team. In the infancy of her second term coaching the boys' team, Lynn Miller had expectations that were decidedly …
A RECORD SEASON? Raiders emerge as tennis power with 11-win year
Posted
At the dawn of the 2014 season, uncertainty reigned supreme in the high courts of the Middletown Blue Raider boys' tennis team. In the infancy of her second term coaching the boys' team, Lynn Miller had expectations that were decidedly curbed.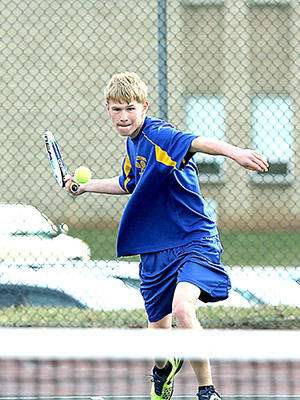 Photo by Jodi Ocker - Sophomore Eric Belles will compete in the District 3 Class AA Doubles Tournament with Harry Kapenstein.
The Raiders had some experienced players, but the team's abilities were still very raw. Last season's top singles player had graduated, and the lineup was still unsettled days before the team's season opener against powerhouse Camp Hill, a rival in the Mid-Penn Conference Colonial Division.
Though Miller was impressed by her team's determined preparedness leading up to its first match, she knew her athletes had to step up their game if they truly wanted to compete.
With that in mind, Miller said her hope of hopes for the Raiders was that they'd be able to reach their goal of duplicating 2013's 7-6 record and placing somewhere in the middle of their division.
For the full story, CLICK HERE to subscribe to the Press And Journal.
Comments