A NAIL-BITER: Rollers fall to Knights, 51-49, end surprising postseason run
Posted 3/11/14
Steelton-Highspire may have been knocked out in the PIAA Class A playoffs in its tournament opener, but the Rollers went out the same way that they've played all season – battling.St. John Neumann edged Steel-High, 51-49, in their …
A NAIL-BITER: Rollers fall to Knights, 51-49, end surprising postseason run
Posted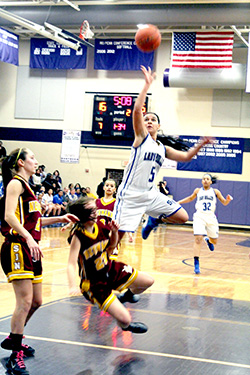 Steelton-Highspire may have been knocked out in the PIAA Class A playoffs in its tournament opener, but the Rollers went out the same way that they've played all season – battling.

St. John Neumann edged Steel-High, 51-49, in their first-rounder on Saturday, March 8 in Dillsburg – a game that was tight throughout.

Joslyn Hill led the Rollers with 11 points, I'lyn McAughlin nabbed 8 and Marlin Sanchez and Ayana Flowers scored 6 apiece.

The Rollers (10-17), the District 3 champs, out-rebounded the Knights 37-20, but missed shots kept the game close.

The Golden Knights (18-8), the No. 3 seed from District 4, led 14-8 after the first quarter, and a layup by Newmann's Emily Sholder early in the second quarter upped the Knights' lead to 16-8.

That's when the Rollers began to rally.

For the full story, CLICK HERE to subscribe to the Press And Journal.
Comments